Burning Flames Hemp Leaf Black Tapestry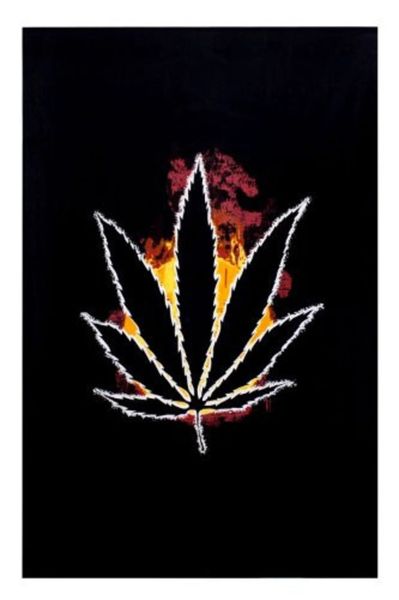 Burning Flames Hemp Leaf Black Tapestry
60 x 90 inches Flaming Leaf Tapestry.

In India, they are what locals use as bedcovers. People use them at home for tablecloths, bed-sheets, room dividers, curtains, window treatments, ceiling decor and to quickly cover up. - The corner loops make our tapestries the perfect multipurpose outdoor traveling companion. Secure your picnic sheet . At festivals, stake out an appropriate amount of space for your friends. Tie up a sunscreen at the campsite. Great at the beach as a windproof beach sheet or sun cover-up.

100% Cotton. These tapestries are printed, not quilted or woven. They are hippie Indian tapestries. Thin as sheet. Good, tight power loom construction. Hemmed edges.

The printing process is unique to India. Each tapestry has its unique imperfections. These tapestries are printed with a special soft fiber reactive dye. This is the same soft feeling of your favorite tie-dyed T-shirt. Some colors may show through the back side to give the impression that they are double sided with one side lighter than the other. Actually, they are only printed on one side.

Size is approximately 5 feet by 7.5 feet. 60 inches by 90 inches 152 centimeters by 228 centimeters 1.52 meters by 2.28 meters.

Fits a twin XL college dorm bed.
Reviews
Featured Products