Om Namah Shivaya Tibetan Copper Bracelet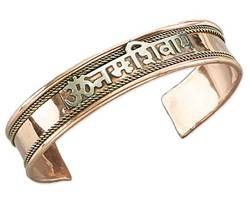 Om Namah Shivaya Tibetan Copper Bracelet
Adjustable, one size fits all. Made and imported from India.

Om Namah Shivaya means "I bow to Shiva," the supreme reality, the inner Self or Consciousness that dwells within all of us.
Handcrafted Copper Mantra Bracelet

Copper Mantra Bracelet displays OM Namah Shivaya Mantra.

The Mantra (prayer) OM Namah Shivaya means honor the divine within.
In Asian tradition, Mantras appear on art or objects of daily use as a reminder to practice silent prayer.

These Mantras are regarded as protective and liberating.
Reviews
Featured Products