KALACHAKRA WITH TIBETAN MANTRA WHITE METAL BRACELET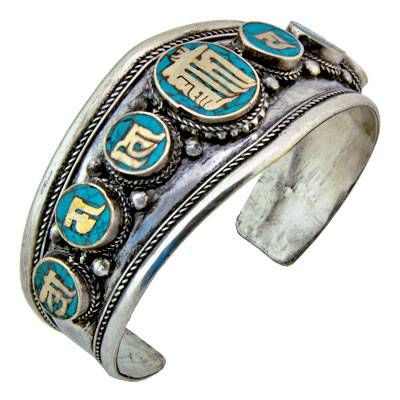 KALACHAKRA WITH TIBETAN MANTRA WHITE METAL BRACELET
The Kalachakra means - 'The Wheel of Time'. The Kalachakra is part of a system of teachings and practice conferred by the Buddha to his disciples. It is a complex Buddhist emblem symbolizing the Wheel of Time.
Open cuff bracelet with Tibetan symbols
Depicts Kalachakra symbol with Om Mani Padme Hum Mantra
Made of mixed metal in rustic finish
Medallions inlaid

Adjustable, one size fits most

Band is just under 1.5 inches at its widest

Handmade in Nepal
NOTE: Any variations or imperfections are the results of the hand making process and ensure that each piece is slightly unique.
Reviews
Featured Products