OM MANI PADME HUM TIBETAN WHITE METAL BRACELET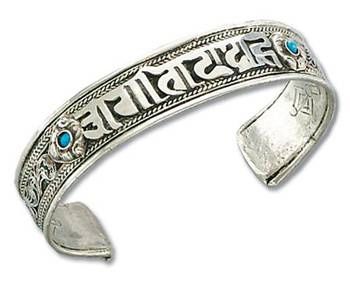 OM MANI PADME HUM TIBETAN WHITE METAL BRACELET
Turquoise and White Metal Om Mani Padme Hum Bracelet
Adjustable, one size fits all. Made and Imported from India.The Om Mani Padme Hum mantra is the most widely used of all Buddhist mantras. Tibetan Buddhists believe that saying the mantra (prayer), Om Mani Padme Hum, out loud or silently to oneself, invokes the powerful benevolent.
Tibetan Mantras Tibetan Jewelry Bracelet Made from Silver Tone White Metal Alloy and Synthetic Turquoise Color Beads;;
Fashion Cuff Metal Bracelet for Men or Women;
White metal is a copper based white metal. It needs to be polished occasionally. You can also polish it with a toothbrush and some toothpaste. Rinse the bracelet after brushing the bracelet. When it is dry, please apply clear finger nail polish on the surface.
Width: 0.35 Inch.
Reviews
Featured Products