"OM MANI PADME HUM" COPPER TIBETAN CUFF BRACELET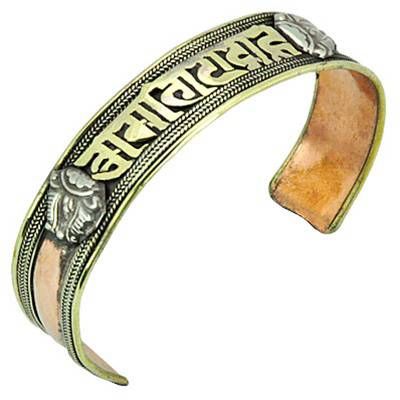 "OM MANI PADME HUM" COPPER TIBETAN CUFF BRACELET
"OM MANI PADME HUM" COPPER

ADJUSTABLE BRACELET ~ 3 Metals Formula

Made and Imported from India.
Unisex design w/ open back for adjustable size - one size fits all
OM MANI PADME HUM, means that by the practice of a path, which is an indivisible union of method and wisdom, you can transform your impure body, speech, and mind into the pure exalted body, speech, and mind of a Buddha.' This is a beautifully crafted copper bracelet with white metal & brass; Features the "Om Mani Padme Hum" Buddhist mantra in Tibetan script. Wearing this bracelet bestows all the blessings & protection of the Om Mani Padme Hum mantra. This mantra is also known as the "Great Six Syllable Mantra" & as the Tibetan Buddhist "Mantra of Compassion." It invokes Chenrezig, the Buddha of Compassion, and represents the wish for all beings to realize enlightenment & be liberated from suffering. The mantra also has deep esoteric meanings & is said to contain all the teachings of Buddhism within it.
Reviews
Featured Products